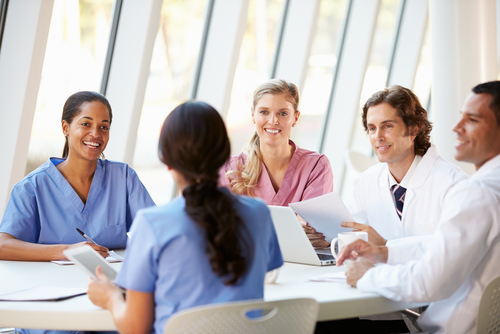 Starting a Medical Staffing Company: Huge Growth + Profitability Potential!
Starting a medical staffing company is more prosperous than before. The nursing/healthcare shortage is projected to continue increasing until the year 2025. Hospitals, nursing homes, and over fifty other types of medical facilities are desperate for resources to help them find qualified healthcare professionals. Medical staffing is an $11.1 billion industry with a projected 7% growth rate occurring annually over the next twenty years. There are many sub-verticals within the medical staffing industry that can generate profit for agency owners.
1. Contract and Per Diem Staffing
What is Contract and Per Diem Staffing in the Medical Staffing Industry?
Temporary contract staffing is the largest profit center within the medical staffing industry. As it becomes more difficult for hospitals and other clients to find qualified nursing and other healthcare professionals, many facilities are turning to medical staffing agencies. By starting a medical staffing company, you can help clients hire contract employees they otherwise would be able to find on their own.  Most medical staffing companies focus primarily on placing nurses, however, there are additional, viable opportunities in placing over 250 other Allied Health professionals including Physical Therapists and Nurse Practitioners. A medical staffing company that has the knowledge and resources to place Allied Health professionals can significantly grow their business.
Temporary contract placements are straightforward.  For example, a medical staffing company places a clinician with a contract in a healthcare facility on a temporary basis; this contract will stipulate a specific billing rate, specific shifts per week, and an assignment start and end date.  Contract staff may work a full-time, weekly assignment or on a part-time, hourly basis.
Another area of the contract sector within the medical staffing industry are per-diem assignments. Per-diem assignments can be one shift at a time, an hourly, full-time equivalent position, or a longer-term assignment lasting several years and having no specific start or end date. Regardless, per-diem staffing is quite profitable for medical staffing companies. According to the Harris Williams & Company Healthcare Staffing Industry Overview Survey per-diem nursing assignments alone accounts for $3 billion of revenue within the healthcare industry.
How are Temporary Contract Employees Profitable for Medical Staffing Agencies?
In 2016, thirty-nine different medical staffing companies each generated over $50 million in revenue from temporary staffing. $10 billion of which was generated for the temporary contract profit center.  The data suggests that the opportunities for placements in the temporary staffing field are endless. The cost of employing full-time staff is very high and facilities may not need additional full-time staff all the time as the patient census of hospitals, nursing homes, etc. can vary from week to week. Furthermore, with the severe shortage of qualified internal staff, most facilities do not have the resources or knowledge to identify suitable candidates in a market that is experiencing severe shortages of medical personnel.
The temporary staffing market is not saturated by providers. When weighing options about which medical staffing company to select, hospitals do not take name recognition into account; they are more likely to make hiring decisions based on the credibility of medical staffing companies to provide qualified employees.  Facilities use multiple agencies because it is impossible for one agency to meet all their needs.  For this reason, it is possible to penetrate the market and earn a market share in geographic markets across the U.S. as a start-up company.
2. Travel Staffing
What are Travel Clinicians in the Medical Staffing Industry?
Another large profit center within the medical staffing industry are travel nurses and Allied Health professionals.  Though many medical staffing companies provide only travel nurses, the demand for Allied Health professionals is growing significantly. Unfortunately, most agencies do not have knowledge in the areas of Allied Health, nor do they have the necessary resources to grow their businesses in that area.
Staffing travel nurses is more sophisticated and expensive than staffing medical personnel on contract basis.   Therefore, it is best for start-up companies to initially launch their business with a focus on placing contract employees.   Once an adequate revenue and profit stream are achieved, additional investment to expand the business to staff travel nurses becomes viable.
Travel staff must relocate to work in a geographic location at least fifty to seventy-five miles from their home and work full-time, committing to thirteen week or longer assignments.  Some facilities now require clinicians to live within a 250-mile radius of the facility to which they are assigned.   Using three different regulatory methods, travel staff can work within their home state, as well as many other states throughout the U.S.
The benefits of employing travel staff are endless for medical staffing agencies. The general goal of hiring skilled and qualified travel staff without compromising patients' safety or quality of care is to allocate scarce resources and reduce labor costs strategically. In recent years, several major area hospitals have begun to utilize travel staff as an alternative to full-time employees and contract staff. Three examples follow:
Compared to the $3.6 million they spent in 2016, J.W. Ruby Memorial Hospital in the West Virginia/Pennsylvania area spent over $10.4 million on travel staff in 2017.
UAB Hospital in Birmingham, Alabama has avoided bed closures and surgery cancellations by utilizing travel staff.
In 2016, according to the National Association of Travel Healthcare Organizations, the overall travel staff revenue grew by 23%.
Due to a lack of non-payroll expenses including retirement, vacation, and training, travel staff cost hospitals six dollars less per hour on average than permanent employees.
With more hospitals realizing the benefits of hiring travel staff through medical staffing agencies, these numbers will continue to grow. Additionally, millennials are twice as likely to travel as older staff, making them a larger presence in the medical staffing workforce.
Individuals are interested in travel employment for the following reasons:
Higher pay:Travel staff members are compensated well for their efforts, with both taxed and tax-free money.
Professional growth:Working in a new setting will yield employees the opportunity to diversify their resume.
Personal adventure:With a new area to explore, staff can enjoy regional culture.
If you are looking into starting a medical staffing company, employee satisfaction should be a major consideration. Checking in on travel staff to assess progress and answer questions will go a long way to making them feel comfortable in their new position, thus yielding a higher earning capacity for your medical staffing company.
3. Allied Health Professionals
What are Allied Health Professionals in the Medical Staffing Industry?
Allied Health positions do not make up the massive market share that travel nurses and contract nurses make up, however, according to Staffing Industry Analysts, they represent approximately 22% of total medical staffing industry placements.
Nurses are often trained to utilize the same technology and respond to similar patient conditions. Conversely, Allied Health professionals have a wide range of expertise.  Each profession utilizes unique skills for the following specialties:
Pharmacist
Lab technician
Physical therapist
Occupational therapist
Physical therapist assistant
Cardiovascular technologist
Speech-language pathologist
How are Allied Health Professionals Profitable for Medical Staffing Agencies?
Given their unique qualifications, Allied Health professionals are difficult for hospitals to find. Allied Health professionals are highly sought after by hospitals.  Consequently, Allied Health placements are highly profitable for a medical staffing company.
According to the U.S. Allied Health and Advanced Practice Benchmarking Survey of 2017, staffing agencies earned a total of $429 million for Allied Health placements. With higher demand and lower availability, average billing rates ranged from $52.08 for general positions to $81.28 for pharmacists.
As the medical industry is experiencing a medical staffing shortage, hospitals will need the expertise of qualified specialists. Medical staffing industry experts believe Allied Health has the highest growth potential as a profit center. Allied Health professions will be a key source of income for individuals starting a medical staffing company.
Nurses are essential members of a patient's treatment team; however, their payroll and benefits are paid from facilities operating budgets. Therefore, their services are a pure cost for facilities. In contrast, some Allied Health professionals serve as profit centers for facilities.  For example, the treatments provided by Physical Therapists and Physician Assistants are 'marked up' for profit and billed to third-party reimbursement sources such as healthcare insurance companies, Medicaid, and Medicare. Even though, both nurses and the for-profit Allied medical professionals are in great demand, sometimes facilities will cut the number of nurses they staff as long the cuts don't impede patient safety.  Conversely, they are more likely to avoid cutting Allied Health staff because they generate more profit for medical facilities.
4. Why Should You Start a Medical Staffing Company?
The goal of a medical staffing agency is to act as an intermediary between hospitals and health professionals.  Specifically, the healthcare industry in affected by the following three elements:
Education Gap:Over the years, nursing programs at accredited universities turned down over 70,000 nursing applications. Those who are qualified to teach these programs often opt to remain in healthcare facilities where the pay is higher. As a result, colleges often lack the internal infrastructure to support these students' educational endeavors, despite those students' qualifications. The education gap is largely responsible for preventing the steady replenishment of industry personnel.
The Retirement of Existing Clinicians:Recent surveys show that many of America's Baby Boomer clinicians intend to retire by the year 2019.  Most Baby Boomer nurses, 73% to be precise, plan to retire by the year 2021, leaving hospitals with many positions to fill.
Baby boomer treatment:As Americans grow older, their need for high-quality, long-term treatment becomes greater. To properly treat patients with high medical demands, hospitals need staff that can aid in this process.
5. Starting a Medical Staffing Company
Exploring and maximizing all possible revenue streams will help your medical staffing agency turn the highest profit. When starting a medical staffing company, it is essential to build a team that can earn income from all sources. With ongoing support from staffing consultants, your agency can enjoy many benefits.
Contact us to learn more at 800-764-2966 or info@medstaffconsultants.com.